The deal
Option 1: (Central) 45-min Massage with 30-min Back Treatment for $248 (rrp. $1,080)
Option 2: (Causeway Bay) 45-min Massage with 30-min Back Treatment for $248 (rrp. $1,080)
Option 3: (Tsim Sha Tsui) 45-min Massage with 30-min Back Treatment for $248 (rrp. $1,080)
Option 4: (Mong Kok) 45-min Massage with 30-min Back Treatment for $248 (rrp. $1,080)
Option 5: (Tuen Mun) 45-min Massage with 30-min Back Treatment for $248 (rrp. $1,080)

45-min massage (choose 1)
- Lymphatic Drainage Massage
- Aromatic Awakening Body Massage
An Ultra Pampering Body Exfoliation Back Treatment (30-min)
Option 6: (Central) 90-min Massage with Gift for $328 (rrp. $1,432)
Option 7: (Causeway Bay) 90-min Massage with Gift for $328 (rrp. $1,432)
Option 8: (Tsim Sha Tsui) 90-min Massage with Gift for $328 (rrp. $1,432)
Option 9: (Mong Kok) 90-min Massage with Gift for $328 (rrp. $1,432)
Option 10: (Tuen Mun) 90-min Massage with Gift for $328 (rrp. $1,432)

90-min massage (choose 1)
- Lymphatic Drainage Massage
- Aromatic Awakening Body Massage
Gift (choose 1)
- Whitening Mask x 2pcs
- Line smoothing Mask x 2pcs
Treatment detail:
Balancing Prelude: Spiritual Balancing Greeting
An exclusive welcome greeting by Dermagram to relieve you from tired body and mind. Through natural and pure aromatherapy breathing and acupuncture heat therapy to relieve your body, mind and spirit, help your skin to absorb its care effectively.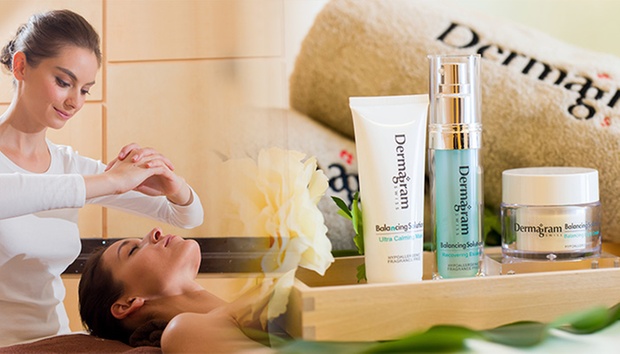 Lymphatic Drainage Massage
A massage inspired by European lymphatic ancient wisdoms massage method. This customized massage will follow the lymphatic drainage and blood circulation flow and your personal areas of tension with slimming and detoxifying aroma. It helps to relieve muscular stress instantly.



Aromatic Awakening Body Massage
Luxurious pampering body massage by professional therapist. The calming aroma helps you induce a deep state of relaxation for a peaceful mind. And recharge yourself from hustling work life.

Ultra Pampering Body Exfoliation Back Treatment (30-min)
Treatment starts to revitalize and smoothens your skin of back by a beauty machine, skin clarifying scrubber. For extra nourishment, the treatment will follow with a gentle scrub and body hydro mask. Only 30 minutes and your skin of back looks velvety smooth and attractive.

Whitening Mask
Whitening Mask helps boost skin's moisture levels while brightening and evening out skin tone and diminishing dark spots and scarring.
Line Smoothing Mask
Lines Smoothing Mask helps to reduce expression lines and wrinkles, repair damaged skin tissues, restoring skin firmness and elasticity.
Dermagram
Dermagram has dedicated numerous clinical studies to developing optimum skincare. The skin is the largest organ in the human body and every inch of skin is a living and breathing entity. Analogous to environment and ecosystem, our skin cells are part of a biological community with a myriad of interrelationships to maintain an intricate balance.
"Balance Skin, Balance Life" is the underlying philosophy at Dermagram, with a holistic approach to wellness, with the combination of traditional remedies and modern approaches to rejuvenate and restore the perfect balance in your skin, improving its resilience and protecting it from damaging effects of stress caused by environmental aggressions and hectic lifestyles.
Through years of extensive research, Dermagram has perfected its formulations with a successful combination of natural active ingredients. Based on the healing properties of Herbalism, a 5,000 year old time-honoured herbal tradition, Dermagram products are specially formulated using the proven healing power in Swiss herbal plants to create simple and highly effective remedies in relieving common skin problems.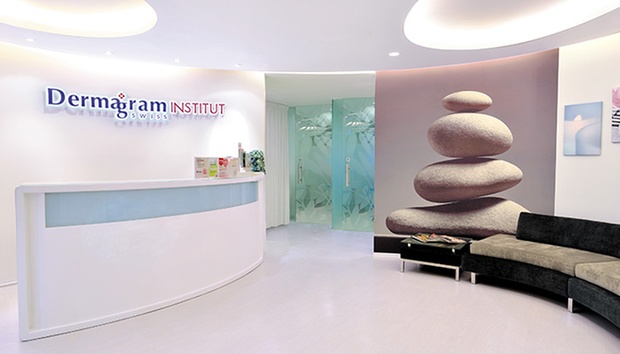 Redemption locations
Central
6/F, Duke Wellington House, 14-24 Wellington Street, Central
Contact number: 2587 7389
Redemption hours: Mon-Fri:11am-9pm / Sat-Sun & PH: 10am-7pm

Causeway Bay
23/F, Soundwill Plaza, 38 Russell Street, Causeway Bay
Contact number: 2838 1986
Redemption hours: Mon-Fri:11am-9pm;Sat-Sun & PH: 10am-7pm

Tsim Sha Tsui
12/F, Chung Fung Commercial Building, 12 Canton Road, Tsim Sha Tsui
Contact number: 2851 1778
Redemption hours: Mon-Fri:11am-9pm / Sat-Sun & PH: 10am-8pm

Mong Kok
Room 401-3, 4/F, Wai Fung Plaza, 664 Nathan Road, Mong Kok
Contact number: 2893 9878
Redemption hours: Mon-Fri:11am-9pm / Sat-Sun & PH: 10am-8pm

Tuen Mun
Rooms 1905-06, Tuen Mun Parklane Square, Tuen Mun
Contact number: 2441 1818
Redemption hours: Mon-Fri:11am-9pm / Sat-Sun & PH: 10am-8pm

006C0000010wJ4e